Affiliate Program
EARN Extra money!
As Affiliates, you earn money when your customers or clients order our products.
When you refer customers to the downloads, you receive affiliate commissions.
Don't worry, there is no product to ship. Hollandcodes.com handles the transactions and the downloads.
By joining this affiliate program, you can earn commissions by promoting our products.
About PayLoadz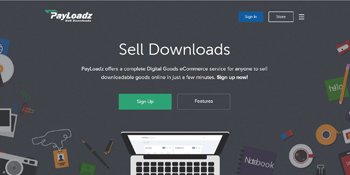 Since 2002, PayLoadz has provided a service to sell downloadable items such as software, ebooks, music, movies, digital art, manuals, articles, crafts, templates, files, and anything else that can be downloaded.
Hollandcodes.com has successfully been using PayLoadz since 2009
Sign UP at Payloadz.com

Click on the Affiliate Builder link for one of our most popular downloads.
steps to become an affiliate!

We provide detailed instructions so that you can complete the process.

You will re-directed to Payloadz web site.
If you do not have an account, you can sign-up for a free Affiliate account.

To sign up, click on the

"Click Here

.

" link

to create a PayLoadz account.

If you have a Payloadz account,

click on the

"Click Here

.

"

to login in existing account.
Complete on One Step Payloadz Setup. 
Enter the following information -
Email Address
Password
Confirm Password
Click the "Submit Information" button.

After you complete the sign up, you will be receive your login information in an email.  The email will have the following information -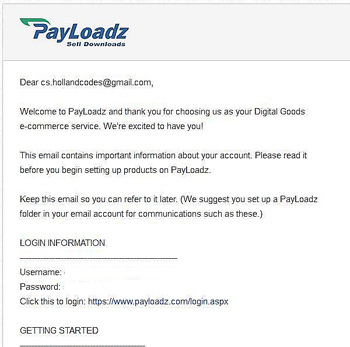 After you complete the sign up, you will also be re-directed to the Affiliate Product Details web page.
On the Affiliate Product Details screen, you will be the following information -

Item Name:
Merchant: Holland Codes Resource Center
Sales Rank:10768
Affiliate Clicks:
Price:
Affiliate Fee:
Affiliate URL: 
Approval To Promote: Auto
To generate the Affiliate Code, click on the "Generate Code" button.

You will immediately receive an email with the Affiliate Code details.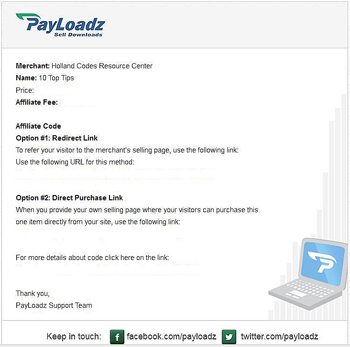 You will be also re-directed to Affiliate Code web page where you receive following options to sell the Hollandcodes.com products -
Link

to

Hollandcodes.com

website

Buy Now

or

Add to Cart buttons

/ links

on your web site or blog using html codes or text links

Text links in social media/ email advertising

When you make an affiliate sale, you will be paid via Paypal. 
If you do not have Paypal, sign up for Paypal.
description of Affiliate Products
Get more information about our affiliate products -
Once you have joined the Payloadz, complete the form below, and we will send you a 50% discount link for 10 Top Tips download!