Sneak Peek!
Self-Directed Search (SDS)
Internet Version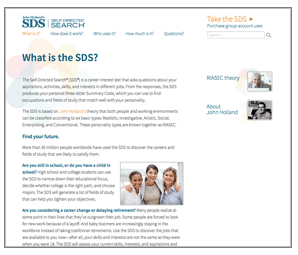 The Self Directed Search (one of the most respected and widely used career planning instrument in the world.

The Self-Directed Search Assessment, easy to use - Complete the career assessment in 30 minutes, .
SDS 5th Edition classifies six basic types: Realistic, Investigative, Artistic, Social, Enterprising, and Conventional according to answers to questions about the individual's aspirations, activities, competencies, occupations, and other self-estimates. .
This easy-to-use, comprehensive career exploration tool provides a three-letter Summary Code and three personality types.
SNEAK Peek Guides
Learn more about the Self Directed Search Inventory from the following guides -
powerpoint
bonus items
With your purchase, you will receive an email giving access to the following resources -
Career and Social Media Resource Center
New Career Decision Making Tool Course
Regular Price $15/ Form R INTERNET or Mobile Version/ Access Code 
Sale Price: $10