Unlock the Treasure Chest Guidebook Receives Endorsement.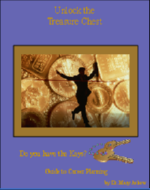 Dr. Frank J. Minor of Career Dimensions wishes to acknowledge and congratulate Dr. Mary E. Askew for her contributions to the profession of career and education planning and counseling.
Dr. Mary E. Askew has developed a career development planning process as outlined in her eBook Unlock the Treasure Chest. Do You Have the Keys? Guide to Career Planning that addresses the needs of students and adults in career transition. Dr. Askew's approach recognizes that career planning is an ongoing process that requires the individual to adapt to the changes in one's personal life situation and also the changes taking place in the world of work and education due to advances in technology and the dynamics of our global economy. Dr Askew's career development philosophy is a contribution to the evolving "Career -Life Span-Life Space" theories.
My way of summing up Dr. Askew's approach to career development planning as shown in her eBook is as follows:
Career Planning is an on going, continuous process throughout your life span. If you are taught the steps needed for career planning and if you are equipped with the appropriate tools and information, you will discover that you are a multi-potential person with many career options and are able to self-manage your career and education exploration, planning and goal setting.
According to Dr Askew, the basic steps for you to follow include:
Assessment of your personal attributes e.g. Interests, Values, Skills & Abilities, Personality, etc.
Broadening of your career horizons by discovering, exploring and learning about career fields that are compatible with your assessment profiles.
Narrowing down your options by comparing the pros and cons of the occupations and education paths matching your assessment profiles.
Mapping out realistic goals and action plans.
Search for colleges and educational institutes, training programs, internships and other experiences that will support your goals and plans and will satisfy your personal preferences and needs.
As time goes by and your life roles and responsibilities change, reassess and take stock of your life situation and be willing to adapt your career to these changes.
Frank J. Minor, Ph.D.
CEO, Career Dimensions Inc.
Associate Professor, Emeritus, Saint Anselm College, New Hampshire
Associate Adjunct Professor, Retired, Columbia University, Teachers College, Graduate School for Counseling Psychology, NYC
Read more about the Unlock the Treasure Chest - Do You Have the Keys? Guide to Career Planning