Destiny Discovers Purpose!
Children's Guide to Self Discovery
Now Sold at the
iTunes Store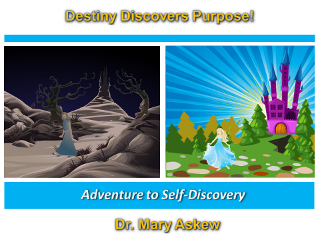 Destiny Discovers Purpose is a fun way to introduce middle school students to careers.
Career interest areas are like gems.
The world is filled with 1000's of careers.
Open your child's eyes to the wonderful world of careers.
Discover your child's destiny and purpose.
Learn about how careers are broken up into six interest areas.
Discover careers in our world.
The Middle School Career Exploration Kit contains the following item - Book (iPhone/ iPad App)
Testimonial
Here is a testimonial from Susan Taylor, our Editor
See Rainbow Careers
I found your ideas fresh and original which is always an asset in the children's market. I particularly liked the character of Destiny (great choice of name) who is highly appealing, being both fun-loving but showing hidden depths. Your ability to connect each career to an appropriate rainbow color is a good reflection of your understanding of child development.
Destiny Discovers Purpose
I found it a wonderful companion piece to See Rainbow Careers. The concept of the treasure box of gems is a clever reinforcement of your original idea.
Susan Taylor
Children's Books Reviewer
University Supervisor
Masters Degree in Children's Literature
Diploma in Book Editing and Publishing
Destiny Discovers Purpose!

Career Book &
iPod/ iPad App

The Destiny Discovers Purpose book -
Is the story of how Destiny discovers her purpose
Has six sections and 60 colorful pages
Provides information about – Career Group characteristics Career interest areas Careers
Uses vibrant colors, animated graphics, and VISUAL learning techniques to help children build an career awareness
Clarifies thoughts, integrates new knowledge, and promotes critical thinking. New concepts are more thoroughly and easily understood.
Organizes and analyzes information.
Improves –Attention Span and Concentration: holds audience's attention and helps people absorb information Memory Skills and Understanding: improves ability to absorb information Speed of Learning: reduces the time it takes to complete career tests.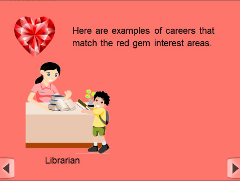 Children, youth, and adults -
See how colors are connected to careers
Realize how careers can be grouped and organized
Use the career book at -
Home
Schools
Boys and Girls Clubs
YMCA/ YWCA Programs
Afterschool Programs
Kids Go To Work Days
Career Days
Summer School Programs
The career book is an career activities for Middle School Students and for other people -
Who are In ESL/GED programs
Who have limited reading ability
Who have limited knowledge of English
Who are developmentally delayed
Who are learning disabled
Who have special needs
Who have limited access to education
Who are chronically unemployed
The Destiny Discovers Purpose book is now available at the iTunes store.