Career Portfolio
The Importance of Career Planning When in School
Career portfolios focus on the importance of career planning in school. What are career interest portfolios?
A career interest portfolio is -
Snap shot of the interests, abilities, and skills
Diary that lists your goals, dreams, and visions
Log book for career exploration and planning
Guidebook to future career planning
Storybook of your lifetime journey
Career interest portfolios are self awareness or occupational exploration portfolios. These portfolios provide guidance in completing the three steps of the career planning process –
Self-Knowledge
Educational and Occupational Exploration
Career Planning
Self-knowledge deals with our self-concept, interpersonal skills, growth, and development.
Educational and occupational exploration reveals the relationships between learning, work, career information skills, job seeking, skill development, and the labor market.
Career planning includes self-assessment, career exploration, decision making, life role formation, goal setting, and the implementation of career choices.
A Career interest portfolio lists -
Career test results
Career interests -What you like to do
Skills - Activities that you do well
Values - Beliefs that are important to you
Favorite subjects
Favorite activities and hobbies
Career experiences: Field trips, interviews with people at work, and interactions with mentors or key resource people
Future job possibilities
A career interest portfolio helps you -
Highlight your interests, abilities, and skills
Recognize your strengths
See the relationships between extracurricular activities and career goals
Learn about world of work
Open your eyes to new job opportunities
Identify workplace skills
List your career exploration objectives
Focus on achieving the right career objectives
Set realistic achievable goals
Make educational and career plans
The career interest portfolio is an excellent aid for students. Education, learning, and training serve as the bridge between school and world of work. School is a time of transition. A career interest portfolio serves as a journal to record special activities and events.
The career interest portfolio helps students -
Increase self awareness
Expand knowledge of careers
Improve career exploration and planning skills
Develop motivation and self confidence
Career interest portfolios provide students with awesome opportunities to gain self awareness as well as to explore and understand the world of work.
Use the career interest portfolios with the RIASEC Inventory or My Rainbow Career Finder.
RIASEC Inventory Online Version & Career Portfolios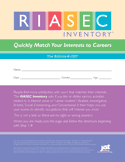 The Career Portfolio Tools course is a step-by-step guide to explore careers. 
Use the course to -
Pinpoint interests, abilities, skills, talents and values
Discover who you really are and understand your likes, dislikes, and interests
Match your likes, interests, skills, and personality styles to careers
Find training programs that are a match to the careers that they are interested
Succeed in planning a career
The RIASEC Inventory gives you a fast and informative way to explore occupations based on your interests. The inventory is a valid way to explore different career options.
The RIASEC Inventory -
Takes only 10-15 minutes to complete
Uses Holland's RIASEC coding system and latest O*NET national occupational database job titles
Scores into six interest areas: Realistic, Investigative, Artistic, Social, Enterprising, and Conventional
Using the RIASEC system developed by John Holland--the most widely used occupational interest coding system available.
Use this inventory to identify their job interests.
Complete only 72 work activity statements.
Match results those interests to potential careers.
The Holland Code inventory, a quick and easy assessment, is perfect for job seekers who have little time to spend on testing and career exploration.
Support materials include -
RIASEC Administrative Guide
RIASEC Occupations List
Here is video that provides a RIASEC Inventory overview.
The second video tells details about the Holland Code Model.
With your purchase, you will receive access to additional videos that cover -
Registering RIASEC Inventory
Administering RIASEC Inventory
Exploring careers
Generating RIASEC Inventory Report
The cost for the online RIASEC Inventory is $5.
Use RIASEC Inventory information to explore interests.
My Rainbow Career Finder & Career Portfolios
Kid Career Test Software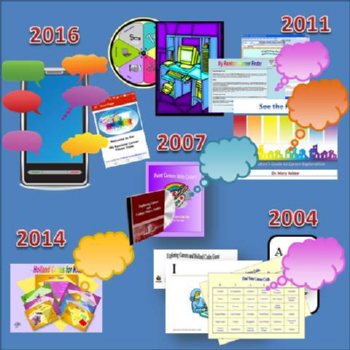 Hollandcodes.com
features the following kid's career awareness, cutting-edge media technology products. The My Rainbow Career Finder program is an alternative to the paper and pencil RIASEC kid career test.
The program is an automated poster scoring system that automatically produces the three letter Holland Code based on the selection that the children provide. Upon completion of the report, we will send you a PDF report.

With the My Rainbow Career Finder, children sort posters according to likes and dislikes.

There is no more counting, tallying, or figuring.

Kids, children, and students will enjoy making their selections and with just the click of a button.

The poster analyzer clarifies thoughts, integrates new knowledge, and promotes critical thinking. New concepts are more thoroughly and easily understood.
The My rainbow career finder organizes and analyzes information. Children -
See how Holland Codes are connected to careers
Realize how careers can be grouped and organized
The kid career test software also improves –
Attention Span and Concentration: holds audience's attention and helps people absorb information
Memory Skills and Understanding: improves ability to absorb information
Speed of Learning: reduces the time it takes to complete career tests.
Use the My rainbow career analyzer at -
Schools
Boys and Girls Clubs
YMCA/ YWCA Programs
Afterschool Programs
Kids Go To Work Days
Career Days
Summer School Programs
The kid career tests are excellent career tests for ELEMENTARY SCHOOL STUDENTS and for other people -
Who are In ESL/GED programs
Who have limited reading ability
Who have limited knowledge of English
Who are developmentally delayed
Who are learning disabled
Who have special needs
Who have limited access to education
Who are chronically unemployed
Supplemental web-based resources include -
Holland Codes
Career videos
Career web sites
Cost for Finder and PDF Report -
$15/ each for one report
$14/ each for 2 to 4 reports
$13/ each for 5 to 9 reports
$12/ each for 10 to 24 reports
$10/ each for 25 or more reports
Cost for Finder, PDF Report, and supplemental web-based resources -
$15/ each for one report
$14/ each for 2 to 4 reports
$13/ each for 5 to 9 reports
$12/ each for 10 to 24 reports
$10/ each for 25 or more reports
View video.