10 Best College Majors for Your Personality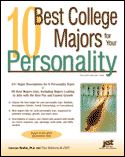 10 Best College Majors for Your Personality is a reference book for career experts, counselors, advisors, and coaches. A guidebook for teachers, parents, and students.
The book is a complete package – assessment, college majors, and careers.
In the Introduction, read –
Why Personality Is Useful for Choosing a Major
Factors to Consider When You Choose a Major
Overview of the RIASEC Personality Types
Next, complete the What's Your Personality Type to discover your Holland Code: Realistic, Investigative, Artistic, Social, Enterprising, and Conventional.
College Major descriptions review the following valuable detailed information –
College major title
Personality types/ CIP Codes
Major concentrations
Typical high school/ college courses
Career overview
Job earnings & growth
English/ Math skill level requirements
Related jobs
Extensive lists show the interrelationship between Holland Codes and college majors –
10 best majors overall for each personality type
5 majors with the best income potential, job-growth, and job-opening potential
Best majors for part-time or self-employed workers
Best majors according to different levels of education
Best majors according to verbal and math skill levels
There are other helpful details.
This
10 Best College Majors book is a MUST-READ!
Order the product below.
Cost: $25.95