Career Resources for Veterans
We have job transitioning resources for Veterans and Former Military to help you successful transition to civilian and corporate jobs.
Step 1: Assess your interests, abilities, and skills.
Career tests help you find career job opportunities. We have two types of career tests -
Self Directed Search Form R Assessment and Occupation Finder for Veterans and Military Personnel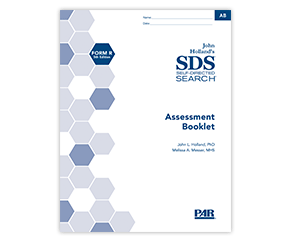 Designed specifically to help veterans transition to civilian life, the Veterans and Military Occupations Finder works in conjunction with the SDS Form R 5th Edition Assessment Booklet to help match an individuals Summary Code to both military and civilian positions.
Two indexes link military occupations to civilian occupations
The Military Occupations Index lists current Military Occupational Classifications (MOCs) from each of the five branches of military: Air Force, Army, Coast Guard, Marines, and Navy.
Each MOC includes a corresponding two-letter Holland Occupational Code (HOC).
The Military to Civilian Occupations Crosswalk Index lists MOCs from each of the five branches along with corresponding civilian occupations and two-letter HOCs.
Using these two indexes, users can locate HOCs for military occupations and their corresponding civilian occupations. This allows users to better understand how they might apply the skills and abilities that they developed in the military to civilian occupations with similar requirements.
Price: $20.00/ Form R Assessment & Veterans and Military Finder
Job Transition Web Sites for Veterans
Step Two: Use Job Transition Web Sites.
After you assess your interests and select a training programs, you can get more information from this veterans web site -
Job Transitioning for Veterans & Former Military has information about career and job sites geared especially for military personnel making the transition to civilian jobs.
The Key to Career Success campaign is a second veterans web site connects veterans and transitioning service members with high quality career planning, training, and job search resources available at local One-Stop Career Centers.
Please share this information with other veterans.