Self Directed Search -
Career Self Assessment Test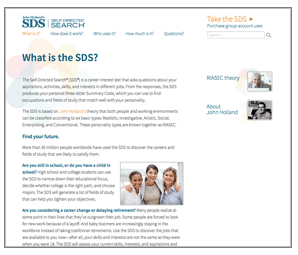 Are you looking for the one of the best career tests? The Self Directed Search is one of the most respected and widely used career planning instrument in the world.
Millions of people (universities, colleges, counselors, coaches, teachers, parents, adults, and students) have used this career test to decide careers and college majors.
Form R is used by people who are planning to attend college or university, are currently in college or university, or have attended college or university. Form R comes in online format -SDS Form R Internet or Mobile Version

Your report includes:

A personalized Summary Code, which is based on the results of the assessment.

A description of each of the six RIASEC types.

   


A personalized list of occupations and fields of study associated with the user's Summary Code, which can be further customized.

   


An additional personalized list of occupations based on the user's daydream occupations.

   


An overview of salary data associated with favorite occupations.

   


A list of additional careers organized by career cluster, which can be used for an even deeper self-directed search.

   


Links to resources to assist users with educational and career planning.
With each purchase, you receive by e-mail an identification number and password to generate a confidential, eight-to-twelve page interpretive report including information about occupations matched to Holland Codes.
Features and benefits
Used by more than 35 million people worldwide, the SDS was originally written by John Holland, the creator of the popular RIASEC theory of vocational personality.
Uses a continually updated occupations resource. SDS Summary Codes are linked to occupations found in the Occupational Information Network (O*NET) database, a major occupational site used by consumers and professionals.
Why the new SDS 5th Edition?
Here are the features for the New SDS 5th Edition -
O*NET database integration—SDS results are linked to thousands of current occupations.
A redesigned report provides an "at-a-glance" summary of occupations, aspirations, leisure activities, and more.
Users can share their SDS results on Facebook, Twitter, or LinkedIn.
Device friendly, the SDS now works on your mobile device or tablet!
Option 1:  Form R INTERNET OR MOBILE  Version
Regular Price $25, Sale Price: $15.00/ 
Please Note: Customer will receive User ID number and assigned password by the NEXT BUSINESS DAY.
FREE Course!!
Take our FREE course to learn about our career tests!
Click on the link to register!  Get immediate access!