Self Directed Search
Form Career Explorer

LIMITED QUANTITIES ON Sale!!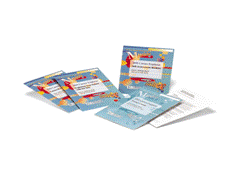 The Self-Directed Search Assessment and Career Booklet Form Career Explorer
The Self-Directed Search Career Explorer (SDS CE) Assessments and Career Booklets are for clients, students, and children who have a reading level of 3rd grade.
The Form Career Explorer Assessment Booklet consists of several sections: Careers I Have Thought About, Activities, Skills, Careers, Rating Your Abilities, Counting Your Answers, What Your Holland Code Means, and Duplicate Summary Page. After answering the questions, individuals derive a 2-letter Summary Code.
The 198-item Assessment Booklet is written at a 3rd grade reading level.
The Self-Directed Search Assessment Form Career Explorer has four sections – Activities, Skills, Careers, and Rating Your Abilities.
The results from the four sections are placed on a Counting Your Answers Sheet. The Holland Code scores are counted. The two highest scores are placed in the Summary Code Boxes.
The Career Booklet lists over 400 careers, including some requiring postsecondary training.
From the SDS Assessment, clients search the Career Booklet for occupations with matching or similar codes--careers that will be most satisfying to them.
Clients write the job that appeal to them on the What Your Summary Code Means page on the SDS Assessment.
Regular Price: $15.00/ Form Career Explorer Assessment & Booklet
Sale Price:  $7.50 (50% off)
17 Available at this price!