Career social media resource center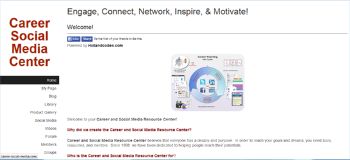 The Career Social Media Resource Center is open to anyone who wants to share, purchase, and distribute information about careers, motivation, inspiration, and social media resources.
Member Benefits
Members get access to -
1. Blog
2. Expanded Free Download Library
Free Career Assessments, e.g. Know Your Holland Code
Free Career Guides
Free Presentations
Resume Writing Resources
Interviewing Tips
3. Low Cost Downloads
4. Forum
5. Member Web Pages
6. Store (Product Discounts)
7. Social Media Resources -
Resource One: Blogs - Blogger and Wordpress
Resource Two: Facebook
Resource Three: Linkedin
Resource Four: Pinterest
Resource Five: Twitter
Resource Six: Evernote - note taking and archiving software
Resource Seven: Delicious
Resource Eight: Issuu - digital publishing platform
Resource Nine: Prezi - cloud-based presentation software
Resource Ten: Scribd - web and mobile device online library
Resource Eleven: Slideshare - document, PDF, video and webinar
Resource Twelve: Infographics - highly visual presentation tool
Resource Thirteen: Wordle - word cloud generator software
Resource Fourteen: Powerpoint
Resource Fifteen: Lino
Resource Sixteen: Powtoon
8. Videos
10 Top Tips
Test Drive Your Career
9.Digital Course for adults and kids
To receive more information, contact us -
E-mail us.
Call us at (602) 753-9112.
Watch the video.

Join
Career and Social Media Resource Center
, formerly the Holland Codes Resource Center.
Cost: $10