Occupations Outlook: Career Exploration for Teens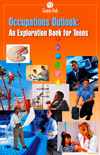 Occupations Outlook Career Exploration for Teens is an excellent, easy-to-read resource for teens. Teens use the Occupations Outlook: Career Exploration for Teens to gather valuable information about potential careers. With this information, teens are better prepared to select the right high school courses. Later, teens make better career decisions and choices for post-secondary training.
In the Introduction, there are lists –
Jobs
Career Clusters/ GOE Interest Groups
Holland Codes
Careers for Me Clusters
The Occupations Outlook comes with a detailed key that outlines -
Education & Training
Employment Opportunities
Average Earnings
Each job listing includes -
Job descriptions
Working Conditions, e.g. work outdoors, indoors, working with people
School subjects
Skills required for future jobs
Related Occupations
Career Clusters
Holland Codes
The Outlook is an excellent introduction to career exploration.

Read about other Occupations Outlook resources.