Career Interests Inventory: Career Self Assessment Test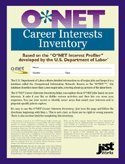 Building career awareness
is the first fundamental step in the career planning process that will help you to
unlock your potential
. Finding the
right career tool
is a fundamental step to identifying and achieving your career goals. You need a tool that will help you
find the connection
between interests, careers, and college majors.
The Career Interests Inventory, a printed, career self assessment test, measures Holland Codes, personalities, and careers. Here is some information about the inventory. The Career Interests Inventory measures six Holland Occupational Codes -
Realistic
Investigative
Artistic
Social
Enterprising and
Conventional
The Inventory is a version of Dept. of Labor's O*NET Interest Profile. O*NET Career Interests Inventory is a 6-panel foldout inventory with 180 statements. The inventory takes about 30 minutes to complete. The responses are added; the results are matched to the Holland (RIASEC) Career Model and hundreds of related occupations. The occupations are divided into categories based upon education, preparation, or training requirements.
Cost:$7
Only available in the Master Course !