Career Test Finder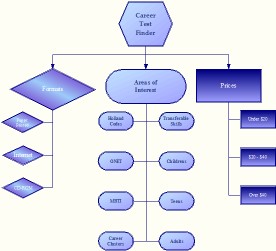 The career test finder resources match careers, jobs, and college majors information to the following factors -

Personalities
Interests
Abilities
Skills
Career Clusters resources
O*NET Codes
Transferable Skills

Use the finder to find career tests are listed by format, prices, and interest area.

You can find career tests easily.

Look at the major areas -

Format (Printed, Internet, or CD-ROM versions)
Prices (Under $20, $20 to $40, and over $40)

Career Clusters tests
Children's Tests
Holland Codes tests
Myers Briggs Type tests
Transferable Skills tests




Career Assessment Finder




Use our handy charts to find the right career test.

Go to the career test finder interest web page.

For an overview of all of the career assessments, go to the career test web page.