Career Clusters and Holland Codes Resources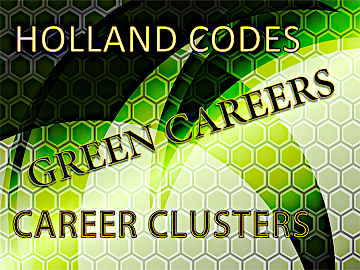 Holland Codes and Career Clusters Posters Set
Bridge between Holland Codes and Career Clusters
Holland Codes and Career Clusters Posters Set shows the relationships between the Holland Codes and the Department of Education Career Interest Areas Structure.
The benefits of the Posters Set are -
Eye appealing - Is a colorful presentation
Easy to use - Facilitates learning through the use of graphics
Comprehensive - Shows the relationships between careers, interests, and Holland Codes
Easy to understand - Simplifies the understanding of career exploration, Holland Codes, and the GOE Codes
Easy scoring - Sorts quickly according to likes and dislikes
Reproducible - Print as many posters as you need
The Posters are used to -
Provide career exploration classroom activities for middle school students, children, kids, and adults who learn best using visual resources
Identify Holland Codes and GOE Codes
Identify characteristics of Holland Personality Types
Sort occupations according to Holland Codes and Career Clusters
The Holland Code and Career Cluster Posters comes with -
Over 200 colorful, illustrated posters
Updated instruction sheets
Alphabetized poster list
State Career Clusters/ Pathways Fact Sheet
Super State Career Clusters/ Pathways Fact Sheet
This Holland Code and Career Clusters resource is an excellent supplement to any career education, counseling, coaching, and exploration program. Use the posters in conjunction with any career cluster or Holland Code resource.
Cost: $15 download/ On sale for $10