My Career Profile -
Career Guidance System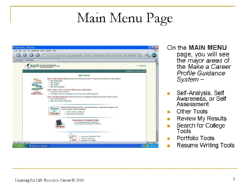 The My Career Profile Guidance System (MCP) is a tool that will help you find the connection between interests, careers, and college majors in order to complete the different steps in the career planning process. To understand the career planning steps, you need more than one tool. The MCP comes with tests and database to assist you in answering all of your career questions.
The MCP has 4 job assessment tests -
My Interests Inventory
My Values Inventory
My Skills Inventory
My Personality Inventory
The
My Career Profile Guidance System
also has
1200+ occupations
and
6000
college databases.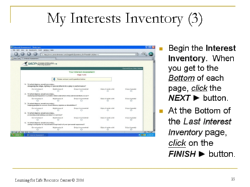 1. My Interests Inventory
The My Interests Inventory generates a 3-letter Holland Codes and provides Interest Level Scores for the six (6) Holland Personality Types.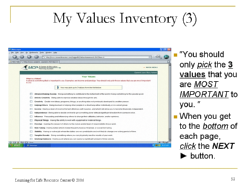 2. My Values Inventory
The My Values Inventory measures out the things that are important to you, for example -
Helping Society
Artistic Creativity
Helping Others
Independence
Prestige
Risk Taking
Stability
Working Outdoors
3. My Skills Inventory
The My Skills Inventory helps you know the things that you are good at, for example -
Communication Skills
People Skills
Problem Solving Skills
Management Skills
Creative and Artistic Skills
Scientific Skills
4. My Personality Inventory
Discover your Personality. My Personality Inventory assesses your personality, matches occupations to your Personality, and generates Occupational Lists.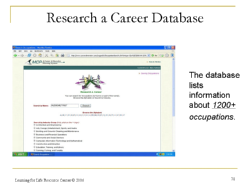 Research a Career Tool
Use the Research a Career database to find information on 1200+ occupations
Overview
Job duties
Skills
Values
Outlook
Earnings
Advancement
Working Conditions
Interest (Holland Codes) Scores
Areas of Study
Training or Educational Levels
School Search Tools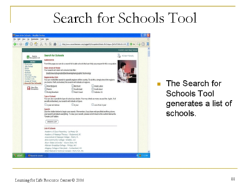 School Tool
The School Tool obtains school from a database The School Tool of 6000+ post-secondary institutions does a college search by major according to the following criteria -
Name of School
Location of School
Region in the USA
Type of School
Size and Cost
College Majors/ Major Areas of Study
COST for My Career Profile and Guidebook: $60
Order My Career Profile.
DELIVERY INFORMATION:
MY CAREER PROFILE is an ON-LINE, Holland Code career self assessment test. When you complete your transaction, you will receive two e-mails. The first e-mail confirms payment received. The second e-mail lists the following information -
Product Title
Transaction ID
MY CAREER PROFILE Web Site Link
Username
Password
Our contact e-mail is [email protected]
Please Note: Customer will receive User ID number and assigned password by the NEXT BUSINESS DAY.
Once you are transferred to the MY CAREER PROFILE web site, you enter your User Name and Password, and access to the web site is immediate.