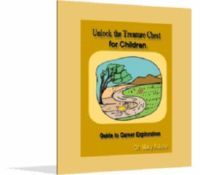 Thank you.
Thank you for ordering the Unlock Your Treasure Chest Guidebook for Children Toolkit.
Holland Codes Resource Toolkit for Children has –
Awareness, Assessment, and Knowledge Parent and Teacher Guide
Guide to Exploring Careers
Visual Aids or Screenshots For Teachers, Counselors, or Parents
The Guide to Exploring Careers discusses –
Learn about Yourself
Find and Understand the Secret Code
Find Your Career Group
Use the SDS Career Explorer
Get Your Career List
Explore Careers Web Sites and Books
The Holland Codes Resource Toolkit has the following items-
100 Holland Code "Bingo" Cards with Instruction Sheet
100 Holland Code Occupational Sort Cards
Eight (8) Holland Code Word Puzzles
Holland Code Resource Manual
Flash Cards
Holland Career Model
Holland Code Bingo Cards
Holland Code Curriculum
Holland Code Information Sheets
Holland Code Resource Guide
Occupational Posters with Instruction and Scoring Sheets
On-Line Holland Code Resources including career exploration lesson plans and computer based career exploration
You will receive a separate e-mail giving you your DOWNLOAD instructions.
On your credit card statement, the credit card payment for the Unlock the Treasure Chest- Do You Have the Keys? Guide to Career Planning will be listed under the name ClickBank or CLKBANK*COM
If you have any questions, you can reach us at explorecareers@qwest.net.
For other Holland Code products, please visit the Hollandcodes.com store.
Thank you