Find a Job Career Test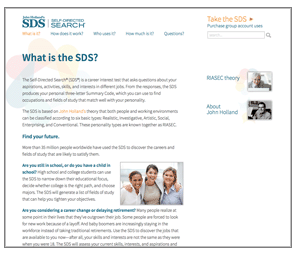 When searching for the right career, there are so many options and decisions. One of those decisions is selecting the right career test. Hollandcodes.com has tools that will help you to make the right decisions.
A Holland Code job career test helps you find career job opportunities, career job descriptions, and career search sites. With a job career test, you test your own job aptitude.
To select the right career assessment, look at the following factors -
Holland career self assessment tests use Holland Codes to link vocational interests to job families. Holland assessments use a two or three-letter RIASEC or Holland Occupational Codes. Different Holland Code job career questionnaire tests provide information on the relationship between job personalities and key characteristics, college majors, hobbies, abilities, and related careers.
The NEW Resource Center has FREE career tests and social media/career resources for $10!
Join the Resource Center.
Features of Career Tests
Here are the features of some career tests.
Immediate
Access
Career Test

Format

On-Line

Printed/
On-Line

On-Line

On-Line

On-Line

Reading Level

Youth/ Adult

3rd Grade
to Youth/ Adult

Youth/ Adult

Youth/ Adult

Youth/ Adult

Holland Codes

X

X

X

X

Personality Styles

X

X

X

X

X

Interests

X

X

X

X

X

Abilities

X

X

X

X

Skills

X

X

X

X

Values

X

X

X

X

Occupational Lists

X

X

X

X

X

College Major
Search Database

X

X

Career Search
Database

X

X

Cost

$20

$12 to $20

$99

$70+

$70+
Career Tests
The Holland Code career self assessment tests are:
Comprehensive, Validated, Reliable Tests:
Low Cost, Informal Tests:
Children, Limited Reading Ability, or Special Needs Tests: