Career Tests for Children and Kids
It is never too early for career awareness!!
Self Directed Search
Form Career Explorer Bulk Orders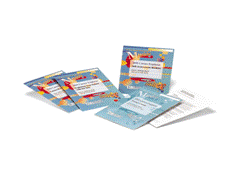 The Self-Directed Search Assessment and Career Booklet Form Career Explorer
The Self-Directed Search Career Explorer (SDS CE) Assessments and Career Booklets are for clients, students, and children who have a reading level of 3rd grade.
The Form Career Explorer Assessment Booklet consists of several sections: Careers I Have Thought About, Activities, Skills, Careers, Rating Your Abilities, Counting Your Answers, What Your Holland Code Means, and Duplicate Summary Page. After answering the questions, individuals derive a 2-letter Summary Code.
The 198-item Assessment Booklet is written at a 3rd grade reading level.
The Self-Directed Search Assessment Form Career Explorer has four sections – Activities, Skills, Careers, and Rating Your Abilities.
The results from the four sections are placed on a Counting Your Answers Sheet. The Holland Code scores are counted. The two highest scores are placed in the Summary Code Boxes.
The Career Booklet lists over 400 careers, including some requiring postsecondary training.
From the SDS Assessment, clients search the Career Booklet for occupations with matching or similar codes--careers that will be most satisfying to them.
Clients write the job that appeal to them on the What Your Summary Code Means page on the SDS Assessment.
Price: $15.00/ Form Career Explorer Assessment & Booklet
My Rainbow Career Finder
Kid Career Test Software

Hollandcodes.com
features the following
kid's career awareness, cutting-edge media technology
products. The
My Rainbow Career Finder
program is an alternative to the paper and pencil
RIASEC kid career test
. The program is an
automated poster scoring system
that
automatically produces
the
three letter Holland Code
based on the selection that the children provide. Upon completion of the report, we will send you a PDF report.
With the
My Rainbow Career Finder
, children
sort posters
according to
likes and dislikes
.
The
automated scoring system
tallies the results
and
generates a Holland Code
.
There is
no more counting, tallying, or figuring
.
Kids, children, and students will enjoy making their selections and with
just the click of a button
.
The
poster analyzer
clarifies thoughts, integrates new knowledge, and promotes critical thinking. New concepts are more thoroughly and easily understood.
The My rainbow career finder organizes and analyzes information. Children -
See how Holland Codes are connected to careers
Realize how careers can be grouped and organized
The kid career test software also improves –
Attention Span and Concentration: holds audience's attention and helps people absorb information
Memory Skills and Understanding: improves ability to absorb information
Speed of Learning: reduces the time it takes to complete career tests.
Use the My rainbow career analyzer at -
Schools
Boys and Girls Clubs
YMCA/ YWCA Programs
Afterschool Programs
Kids Go To Work Days
Career Days
Summer School Programs
The kid career tests are excellent career tests for ELEMENTARY SCHOOL STUDENTS and for other people -
Who are In ESL/GED programs
Who have limited reading ability
Who have limited knowledge of English
Who are developmentally delayed
Who are learning disabled
Who have special needs
Who have limited access to education
Who are chronically unemployed
Supplemental web-based resources include -
Holland Codes
Career videos
Career web sites
Cost for Finder and PDF Report - $10.
Cost for Finder, PDF Report, and supplemental web-based resources $15.